Market America | SHOP.COM Partners with Fulton Fish Market, Providing Fresh Seafood to Its Online Customers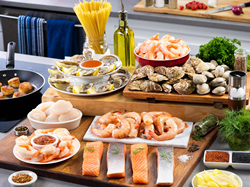 GREENSBORO, N.C. (PRWEB)
November 26, 2019
Market America | SHOP.COM is proud to announce its recent partnership with Fulton Fish Market providing high-quality, fresh seafood to all SHOP.COM customers. Market America | SHOP.COM's revolutionary Shopping Annuity® concept helps smart shoppers convert their spending into earning through SHOP.COM. Now, these same customers can buy premium salmon, sea scallops, wild Caribbean red snapper and so much more while turning these purchases into earning.
Fulton Fish Market delivers the largest assortment of fresh seafood to the country's best restaurants, and now SHOP.COM customers can enjoy the same delicious, healthy seafood delivered straight to their door. Seafood is carefully packed and arrives fresh in eco-friendly packaging, ready to cook. The world's second largest fish market, Fulton Fish Market maintains taste and freshness by having quality assurance professionals select from only the best seafood that arrives in the market every morning.
This partnership between Market America | SHOP.COM and Fulton Fish Market is a win-win for both businesses and for the millions of SHOP.COM online customers.
About Market America | SHOP.COM

Market America is a global product brokerage and internet marketing company that specializes in one-to-one marketing and is the creator of The Shopping Annuity. Its mission is to provide a robust business system for entrepreneurs, while providing consumers a better way to shop. Headquartered in Greensboro, NC and with locations in eight countries, including the US, Market America was founded in 1992 by Chairman and CEO JR Ridinger and has generated over $9 billion in accumulated sales. Through the company's primary shopping website, SHOP.COM, consumers have access to approximately 300 million products, including Market America exclusive brands and thousands of top retail brands. Among the many awards and recognition, SHOP.COM ranks 11th in Newsweek Magazine's 2020 Best Online Shops. SHOP.COM ranks #36 in Internet Retailer's World's Largest online Marketplaces, #12 in the 2019 Internet Retailer Primary Merchandise Category, #65 in the 2018 Internet Retailer Top 500, #96 in the Internet Retailer Asia 500 and #18 in 2017's Internet Retailer Mobile 500. The company is also a two-time winner of the Better Business Bureau's Torch Award for Marketplace Ethics and received 2019's Triad Business Journal's "Fast 50" award as one of the top privately-held companies for sustained growth, driving the area's economy. By combining Market America's entrepreneurial business model with SHOP.COM's powerful comparative shopping engine, Cashback Program, Hot Deals, SHOPBuddy® Express Pay check out, social shopping integration and countless other features, the company has become the ultimate online shopping destination. For more information: https://www.marketamerica.com/site/company.
About Fulton Fish Market

Fulton Fish Market is the second largest seafood market in the world, and New York's go-to source for high quality fresh fish. It stands on 200 years of culinary history, starting with the open-air Fulton Fish Market in Manhattan established in 1822. Today, FultonFishMarket.com employs the latest technology and procurement techniques to bring the freshest wild-caught and sustainable seafood from across the country and around the world, and they deliver it fresh direct to consumer doorsteps. Welcome to a new, better way to buy the best seafood.
Share article on social media or email: